Paddle a six or ten mile section of the beautiful Housatonic River in Northwestern Connecticut.


This section is a mixture of moving flatwater and easy whitewater and is suitable for novice paddlers.
The famous Covered Bridge in West Cornwall marks the halfway point and is a nice spot for a picnic lunch (no glass bottles please!), or stop at one of the many scenic spots along the river.
Come to our shop in the morning and a van will take you to Falls Village. When you've completed your journey 10 miles downstream at Housatonic Meadows Picnic Area we'll pick you up and bring you back to our shop where hot showers are available.

change of clothes to leave in car
towel*
suntan lotion*
bug repellant*
Sandals or Water shoes*
eyeglass strap*
rain gear (if needed)*
waterproof camera*
*Available in our retail store.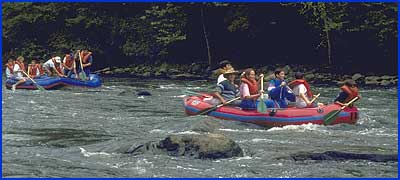 (4 or 6 people per)*

Adults: $35/person weekends, $25/person weekdays
Youth: (15 years & under)* $25/person weekends, $20/person weekdays

All rates include shuttle service & lifevest.
*Guided trips are available for an additional $150.00


Our vans leave our shop to bring you to the river at the following times ONLY! PLEASE ARRIVE 20-30 MINUTES PRIOR to shuttle departure. Pickups are every 1/2 hour throughout the afternoon.
Weekdays:
10 mile trip @ 10:30
6 mile trip @ 1:30
Weekends:
10 mile trip @ 9:30, 10:30, 6 mile trip @ 1:30

Advance reservations (1-2 weeks) are strongly recommended (earlier for large groups). We require a 50% reservation deposit to confirm your reservation. This may be done over the phone with a credit card if desired.
Reservation deposits are fully refundable with 5 days cancellation notice. We run all trips rain or shine! In case of actual rain the day of your trip, you may choose to transfer your deposit to another day this season minus a $10 processing fee.
A Security Deposit of $50 or a credit card is required at the time of rental. When rented equipment is returned, in signed-for condition, security deposit may be picked up.
Clarke Outdoors reserves the right to cancel or move any trip due to river or weather conditions. We will not rent to persons who appear to be under the influence of alcohol.

Kayak Lessons | State Parks | Retail Store | Updates
How to Get Here | Links | E-Mail Us | Home
163 Route 7, West Cornwall, CT 06796 (DOES NOT WORK FOR GPS!)

(1 mile south of the covered bridge)
ph: 860-672-6365