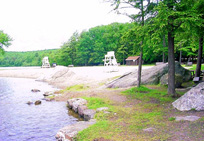 BURR POND ct.gov
Burr Pond State Park is a state park in the town of Torrington, Connecticut, USA. The park provides facilities for swimming, boating, fishing as well as numerous hiking trails. Hike the trails in search of the bronze tablet marking Connecticut's role in the Civil War and the Industrial Revolution.
CLOSED FOR THE SEASON, THANK YOU.
LAKE WARAMAUG ct.gov
Lake Waramaug State Park is a state park located on the northwest shore of Lake Waramaug. The park provides swimming, fishing, picnicking, camping and restroom facilities. Scenically, few bodies of water in Connecticut can rival the picturesque setting of Lake Waramaug. When vivid fall foliage is mirrored in the unrippled lake surface, the park becomes a mecca for sightseers and photographers.
CLOSED FOR THE SEASON, THANK YOU
NEW RENTAL SITE AT YOUNG'S FIELD IN NEW MILFORD
ON THE HOUSATONIC RIVER! NOW CLOSED FOR THE SEASON.
---
SQUANTZ POND ct.gov
Squantz Pond State Park is a state park located 10 miles north of Danbury in the town of New Fairfield, Connecticut. The park offers opportunities for swimming, fishing, hiking and boating. Squantz Pond offers four season enjoyment with steep, wooded slopes, a cool, blue pond and colorful foliage to delight visitors throughout the year.
RENTALS ARE NO LONGER AVAILABLE AT
SQUANTZ POND.
$15.00/hour for SINGLE BOATS
$20.00/hour for DOUBLE BOATS
SUP rentals (Lake Waramaug & Burr Pond)
$10.00/ 1/2 hour $15.00/ hour
WE CLOSE FOR INCLEMENT WEATHER!
We only accept cash payments as we have no means of processsing credit card payments. Thank you.
Please be aware there is a parking fee at the park. Fees vary by park. Average weekday CT resident fee is $9, nonresident weekday fee $15. Check the CT DEEP website for specific prices.
change of clothes
towel
suntan lotion
bug repellant
water shoes
eyeglass strap
rain gear
non-cotton clothes
waterproof camera
Kayak Lessons | State Parks | Retail Store | Updates
How to Get Here | Links | E-Mail Us | Home
163 Route 7, West Cornwall, CT 06796
(1 mile south of the covered bridge)
ph: 860-672-6365